A Google Business Profile is an effective tool for attracting valuable customers, increasing traffic to your website or physical store, and improving local search engine optimization. The decisions these visitors or potential customers make are often influenced by the interactions they have with your brand. Customers these days mostly look for reliable online reviews and suggestions for goods or services they want. They also watch out for the right-hand SERP panel to access important information, such as contact information, location, and operating hours. The likelihood of luring new clients increases with the breadth and freshness of this material.
As such, your Google Business Profile must remain up-to-date at all times. Google uses various elements in your listing profile – like categories you select or customer reviews left for you – when ranking businesses in its local search algorithm. If you are a small business or an agency that serves several small businesses, tracking Google Business Profile performance becomes highly important for the long-term growth of your business. Although there are several tools for GBP tracking online, check out AgencyEasy for its comprehensive dashboard, user-friendly interface, and in-depth report generation feature.
Having your GBP accurate and up-to-date is highly advisable. It's highly advisable that you track your business's GBP performance with the best-suited tools, like AgencyEasy. GBP is an amazing, free resource to increase online visibility and build stronger connections with potential customers. By keeping all key business details accurate and taking advantage of engaging opportunities such as rich media and engagement features, this free GBP reporting tool can help your organization connect with new audiences while building strong customer relationships.
What is Google Business Profile?
Google Business Profile (GBP) is a free tool designed to help businesses manage their online visibility across the web. Packed with tools and features designed to keep listings up-to-date, communicate with customers, and drive new business leads, Google My Business Reporting Tool can help businesses stay visible online while staying engaged with local searchers. Regular updates of your GBP could boost its effectiveness in helping you engage more directly. Connect with a leading digital marketing agency to learn more about GBP and how to update it regularly. You can even track your GBP performance with AgencyEasy for optimum results.
Once you have submitted updated key business information, be sure to verify your listing. This will verify that it is genuine and has the correct contact details for potential customers. Verification procedures vary depending on the type of business but typically consist of phone calls or postcards sent with codes to enter into your dashboard for completion of the verification process. As soon as Google has verified your business, it's time to enhance its Google Business Profile Reporting by uploading photos, updating operating hours and services, and adding relevant services that customers may require.
Filling in as much of this data as possible ensures customers can obtain all of the information they require about your offerings. In the Info tab of GBP, you'll be able to update key business details such as address, hours of operation, phone number, and Business Description area – perfect for showing why your business stands out from others. GBP's Questions & Answers tab is another fantastic feature, enabling you to add up to 10 frequently asked questions (FAQs). Customers can submit inquiries or be directed toward other resources, such as your website or social media channels, for answers.
Updating your Business Profile is relatively straightforward. Simply log into the GBP dashboard and click "Edit Business Address." Include important details of your business, like its name, address, phone number, and, if appropriate, a website link. Furthermore, don't forget to respond to reviews or messages left on your business profile – not only does this show customers you care, but it can help you learn from both positive and negative feedback, helping shape future strategies accordingly.
Tracking Google Business Profile Performance Using AgencyEasy
Monitoring Business Profile Performance using AgencyEasy allows agencies to provide clients with useful SEO reports that highlight key metrics, including direct versus discovery searches, search vs. map views, and more. With AgencyEasy, businesses can get useful and right-to-the-point insights that can help business owners, strategists, and digital marketing experts make thoughtful and data-driven decisions. It also helps monitor trends during busy periods to keep an edge over the competition. Read along to learn more about how you can now use AgencyEasy to track your GBP performance: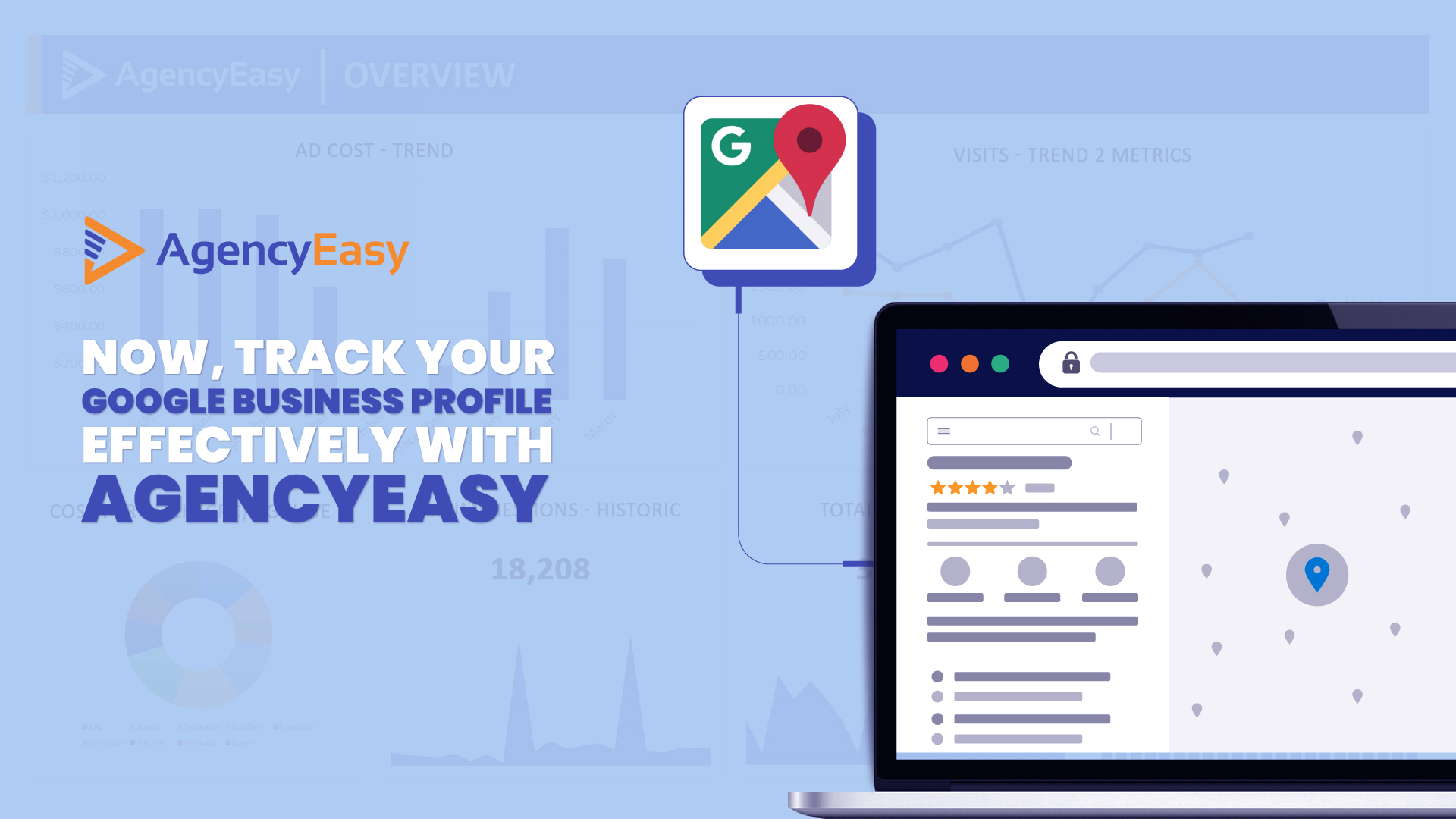 Searches
Google Business Profile keywords are an essential metric of local search, helping businesses gain insight into which words their potential customers are using to locate them and interact with them. Business Profile Insights stands out among Google tools by only providing data-driven insights that pertain to local search presence. Metrics include how people discover a business listing through search results, their interaction with it, and what searches led them there.
Profile Viewed

Google Business Profile Insights (formerly Google My Business Insights) offers data-driven insights that measure your local search performance, such as how many views your listing receives, how people find you, and the level of interaction people have with it via calling or visiting your website. It differs from Google Search Console and Analytics by solely tracking local search visibility. AgencyEasy is an invaluable way of measuring SEO effectiveness, as it can identify areas for improvement.
Profile Interaction

Google Business Profile Insights provides data-driven insight into how searchers discover and interact with your business online. Unlike other free Google tools like Search Console or Analytics, this specializes exclusively in local search performance. With the help of AgencyEasy, you can generate useful reports on your GBP. Your Google Business Profile Reporting also tracks customer actions taken on it by searchers, like directions requests or calls. This will help you plan your future strategies accordingly.
Direction Request

The number of distinct clients who ask for directions to your place of business is also important. To accommodate for issues like multi-tapping, direction request cancellation, and spam, the Google My Business Reporting Tool modifies how it counts unique direction requests. We anticipate that the new direction requests measure will better reflect the frequency with which specific clients ask for directions to your establishment. The old version of the measure is still accessible on the Business Profile Insights page as we continue to test the new one.
Calls
Calls is a metric that shows the number of clicks on the call button that's shown on your GBP. By providing your business phone number, you can help your potential customers call you and clear their queries about your business. The GBP reporting tool for your business gives you an opportunity to convert your potential visitors into valuable customers. View all such important metrics with visually engaging reports generated by AgencyEasy. Contact us now to learn more!
Other Important Metrics
Website clicks are yet another important metric that shows the number of clicks on the website link that you have mentioned on your Google Business Profile. Messages are a metric that tells the business owners the number of unique conversations that happen through messages. Bookings tell the number of final bookings that have been made using the GBP. These and other such metrics on Google Business Profile Reporting help business owners understand their performance online and help them grow their business.
Google Business Profile Insights is an ideal starting point for local SEO reporting. With access to valuable analytics data, this resource gives an accurate picture of your search presence while helping identify areas for improvement. While using the GBP data for your business, it's advisable to note that this data alone does not reveal everything about SEO performance. For an all-encompassing view, combine this with analytics data from other channels like AgencyEasy, which automatically pulls useful info together and creates visually descriptive reports that you can refer to for your business growth and share with your clients – sign up now for your free 14-day trial and let AgencyEasy take care of all your reporting requirements.
Loved By Other Digital Agencies
There is a reason why other digital agencies trust us. Discover what industry experts have to say about AgencyEasy.