As a digital marketing consultant or agency, creating and using white-label SEO reports can be an effective way of saving time, presenting a professional image to clients, and tracking the results of your marketing campaigns with greater efficiency.
Do you want to create engaging such reports that impress your clients? Can you imagine doing it with a few clicks? 
Continue reading to figure out the basics, and learn how to set up an automated SEO report that will save you tons of time. Because why not?
What Are White-Label SEO Reports?
These SEO reports refer to reports created by a professional SEO tool that is branded with your company's logo and branding. Basically, these reports do not bear any traces of the company that originally produced them. 
SEO reporting software will save you tons of time gathering data from scratch and composing it into comprehendible tables and charts while making it look good.
A white-label SEO tool does an outstanding job of aggregating data from Google Search Console, Google Analytics, Google Business Profile, search engine results pages, and other sources and presenting it in an easily understood and visually attractive manner, such as a table, chart, or graph. The data can then be saved as a PDF or exported as a spreadsheet.
AgencyEasy provides a unique solution for obtaining customized white-label SEO reports aligned with your precise requirements based on each client's marketing goals, metrics, and specific SEO campaigns you have helped them with.
What Is Automated SEO Reporting?
Automated SEO reporting is creating reports that are sent regularly without any hustle from your side. All you have to do is set up the metrics you wish to be included in your automated SEO report, add the recipient, and choose how often you need these reports to be sent. 
The best way to manage your business is by automating as much as possible. And that includes your SEO reporting!
With our software, you can create automated reports for all your clients so they know exactly what they are getting from yours and when. This way, you don't need to worry about scheduling reports repeatedly. The automated SEO report will never let you mix up who gets what information and when.
In addition, if you manage a large agency with many client accounts, automated reporting minimizes the chance you'll send the wrong report to a client (or forget to send it at all), which comes across as unprofessional.
Automated SEO reports are set-it-and-forget-it: Choose the type of report and data you want to send to your client, when or how often you want to send it, and who should receive the information, and you're all done – in just a few clicks.
What Are The Benefits Of Free White-Label SEO Reports?
Anytime you need to deliver clear insights for your clients, there is no need to do it all manually. As your business grows, the number of tasks you do increases accordingly. With automated SEO reporting, you don't get a miracle but a solution that will save you tons of precious time. 
Free white-label SEO report has several advantages over creating your reports in-house from scratch (or using words with third-party branding). Here are five top benefits to consider:
It saves time and money.
Creating a white-label reporting solution is more affordable and time efficient than pulling data together every reporting period.
Not only will you save time, but you'll also save money with a white-label solution. Most white-label solutions can be completely automated so that you can spend more time on critical SEO tasks like content creation, technical troubleshooting, email outreach, link building, and reputation management.
The most important thing to consider when choosing a reporting tool is how much data your business needs to have at its fingertips. Some tools offer unlimited users, while others charge per user based on the amount of data they need. This eliminates the hourly costs of staff and makes budgeting a breeze!
Then if a client wants a report mid-month, you can run it in just a few clicks.
Reduces human error
As your agency grows, so will you risk missing deadlines or sending the wrong report to clients. It's easy to forget about something when you're busy with other projects, but if you put reporting on autopilot, you'll be able to ensure that your clients receive consistent and correct data every month, like clockwork.
It's also much easier for your clients to visually compare and understand progress reports when the data is parallel with historical reports.
Builds trust and increases customer retention
With the help of white-labeled reports, you can impress your clients to keep them excited about working with you.
Visually attractive, branded reports keep your clients in the loop and solidify your reputation as an expert.
Today's best white-label SEO reporting tools combine graphic design best practices and gamification elements to make data analysis easy and exciting (even addictive!). With the help of eye-catching charts and graphs, attractive color groupings, bright green progress bars, and your company's branding, you can impress your clients each month and keep them excited about working with you.
Provides valuable data
AgencyEasy white-label SEO reports are designed to help you understand how your website is performing in the search engines so that you can make informed decisions about improving it. They also boost your marketing efforts by giving your clients a sense of control over their SEO and making them feel like they're an active part of the process.
For instance, if you're running an SEO campaign for any client, you might use a white-label SEO report to:
Track key SEO KPIs and set realistic targets for new campaigns based on historical data in the industry.
Aggregate or compare data to identify trends or benchmark performance in a specific vertical or industry or over a specific time period
Use branded reports in your marketing materials (make sure to get permission from clients if the reports contain identifying info)
Use report data to create original research, such as a case study on your website or an infographic on social media.
Measure ROI from your campaigns
Improves file management and security
Some white-label SEO reporting tools offer a CRM or file management feature for organizing and securing client accounts.
For example, SEMRush's CRM feature for marketing agencies lets you keep track of client data and related files such as SEO reports and other documents. You can search client files by keyword, manage prospect and client workflow, and collaborate on campaigns with your team.
Types Of SEO Reports
Different SEO reporting tools offer varying types of reports. It is crucial to consider what information will be most useful to you and your clients before you commit to a specific agency. 
Some specific categories include:
Rank tracking and keywords
These reports typically display a website's ranking for desired keywords in search results while providing insights on search volume, keyword competitiveness, and location (e.g., city or country). Additional features in certain reporting software include SERP analysis to evaluate keyword competition.
There are several reports, such as leading traffic sources, high-traffic volume pages, and the most traffic-generating keywords.
These reports offer insights into your primary competitors, their search engine ranking compared to yours, shared keywords, search engine market share, and content gap analysis.
These reports cover your website's backlink profile details, such as the number and quality of links, referring sites, and top-linked pages. Your root domain and individual pages may receive a rating that reflects their link authority compared to other websites, such as Ahrefs' Page Rating and Domain Rating metrics.
Site Audits refer to white-label SEO tools that detect technical SEO, indexing, and crawlability problems. These tools offer information on issues such as 404 errors, page speed, Core Web Vitals, mobile usability, duplicate content, broken links, redirects, and robots.txt configuration.
These reports measure website visitor engagement and website behavior, including click-through rate, time on page, and bounce rate. These reports may also offer insights into how users navigate a site and identify the pages from which they tend to exit.
Reports of this kind monitor the activities performed by your website visitors, which could include clicks, sales, leads, and newsletter signups.
Local marketing reports come in different forms, including Google Business Profile insights, business reviews, and local citations.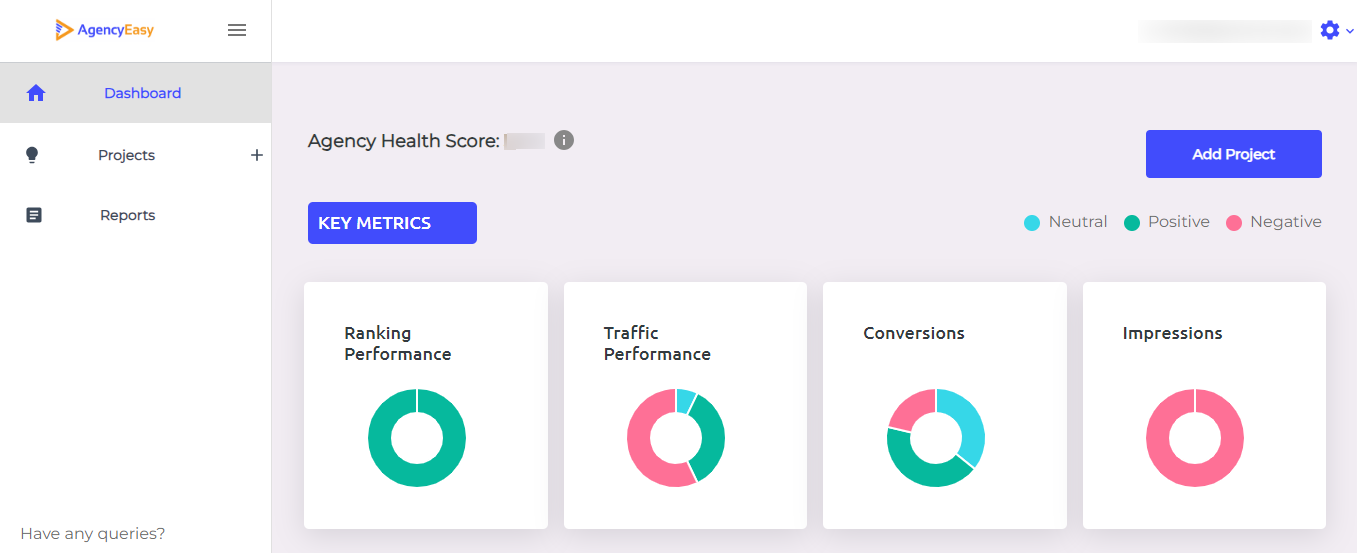 How to choose a white-label SEO Reporting Tools
Our technicians at AgencyEasy provide comprehensive white-label SEO reports to our clients, allowing them to see the impact of our work on their website's search engine ranking. Here are some points you can consider when selecting white-label SEO reporting software for your agency or business:
Ease-of-use
While still easy for you and the team to navigate, does the software contain all the right features? Is the tool's dashboard well laid out? Are all the reports clean and simplified enough for someone without in-depth SEO knowledge to read and understand?
Features
Do you need a complete SEO tools suite, such as WooRank or SEMRush, or only a tool with a specific purpose, such as simple rank-tracking software? Does the device include all the most important metrics to you and your clients? Does it integrate with all the right data sources? 
Quality of Data
To determine whether the data provided is complete, accurate, and regularly updated, it can be helpful to read reviews from other users on platforms such as TrustPilot, Capterra, G2, and GetApp.
Progress Reporting
Is there a provision for extensive progress reporting in the tool? This includes the ability to track ranking data spanning several months or years, allowing you to compare current performance with historical results and demonstrate the outcomes achieved for your clients.
Pricing
When evaluating software, it's important to consider whether its pricing model is appropriate for your requirements. The most common pricing structures are a monthly or annual subscription fee per user or a pay-as-you-go plan based on data usage. Remember that certain tools may only provide white labeling as a feature on more expensive programs.
How to create white-label SEO reports and automate them?
One of the most important questions businesses have is, "how to create SEO reports?" It typically consists of the following simple steps:
Regular reporting is crucial for all SEO and web marketing experts to keep their clients updated. Automated SEO reports are highly recommended to impress clients with professional-looking reports without wasting time. Although numerous tools are available, we will focus on the general process of creating these reports.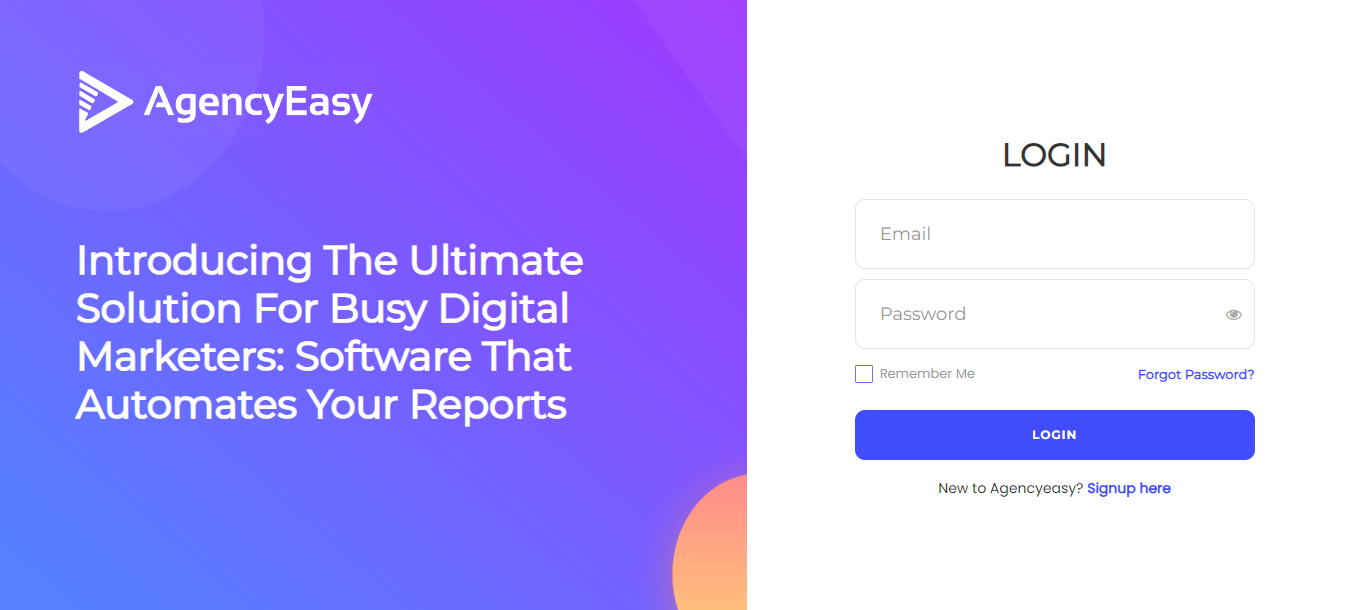 For starters, managing reports is simple and intuitive. You can easily disable, edit, copy, or remove existing notices. To create a new account, click the "Create Report" button and adjust the content to be included in the PDF report. The two main blocks you can adapt are Overview Charts and Keyword Tables. The charts include position changes, average position, traffic, and position distribution. The Keyword Table has a place, best page, volume, and traffic columns. You can easily turn off anything irrelevant.
After adjusting the content, you can edit the parameters for sorting the table. It is recommended to sort the report by relevance to your specific case. Next, choose the recipients of the report and the frequency they will receive it. You can select a particular group of keywords to include in the report or have all of them. Finally, upload your business logo to create automated reports.
Final Thoughts
It is important to create SEO reports as an essential task for businesses to improve their online presence, but it doesn't have to be time-consuming and daunting. By using automated reporting tools, companies can save time and effort while obtaining valuable insights into their website's performance. 
Choosing the right tool for your business is crucial, and AgencyEasy is a great option for getting a free white-label SEO report tailored to your specific needs. With the opportunity to contact the company for further discussion, businesses can make informed decisions about their online strategies and improve their search engine rankings.
Don't let the idea of creating SEO reports overwhelm you. Instead, take advantage of the available resources and start seeing the positive impact they can have on your online presence.