As the digital marketing landscape evolves, staying ahead of the competition requires powerful tools that streamline processes and deliver actionable insights. Keeping in line with our continuous commitment to empowering digital marketing agencies and Roadmap, we are thrilled to announce three game-changing features recently added to AgencyEasy. With LinkedIn Ads Integration, more data points from GA4, and Component-wise Report Customization, AgencyEasy is setting a new standard in simplifying and elevating your digital marketing report efforts. These new additions will revolutionize how you manage and analyze data, enabling you to make informed decisions and drive exceptional results for your clients.
Let's dive into the details of each feature:
1. LinkedIn Ads Integration: Elevate Your LinkedIn Advertising Efforts
LinkedIn has become a vital platform for B2B marketers, and now, you can seamlessly integrate your LinkedIn Ads data into AgencyEasy. Monitor, analyze, and optimize your LinkedIn advertising campaigns side-by-side with your other social media and Google Ads efforts. Gain a holistic view of your marketing activities and make data-driven decisions to maximize ROI. With AgencyEasy's LinkedIn Ads Integration, expanding your reach and boosting results has never been easier!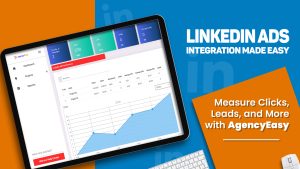 Our LinkedIn Ads integration provides valuable data, including:
Campaigns
Easily monitor the performance of your LinkedIn advertising campaigns in one centralized dashboard: track impressions, clicks, and conversions with ease.
Ad Spend
Get real-time insights into your ad spend, helping you manage budgets efficiently and optimize your return on investment.
Clicks & Leads
Measure the effectiveness of your LinkedIn ads by tracking the number of clicks and leads generated.
Cost Per Lead
Understand the cost-effectiveness of your campaigns by calculating the cost per lead.
LinkedIn Ad Performance
Analyze the performance of individual ads and identify top-performing creatives for better campaign optimization.
Comprehensive Graphical Representation
Visualize your LinkedIn Ads data with easy-to-read graphs and charts, allowing you to present insights more effectively.
Demographics for Ads Campaign
Gain deeper insights into the demographics of your target audience to refine your ad targeting and messaging.
2. More Data Points from GA4: Uncover In-Depth Analytics Insights
Understanding your website's performance is crucial for successful digital marketing strategies. Now, with more data points from GA4 integration, AgencyEasy brings you access to a wealth of granular data. Dive deeper into user behavior, engagement patterns, and conversion metrics, enabling you to optimize your website and campaigns with precision. Uncover hidden opportunities and track your marketing performance with unrivaled clarity.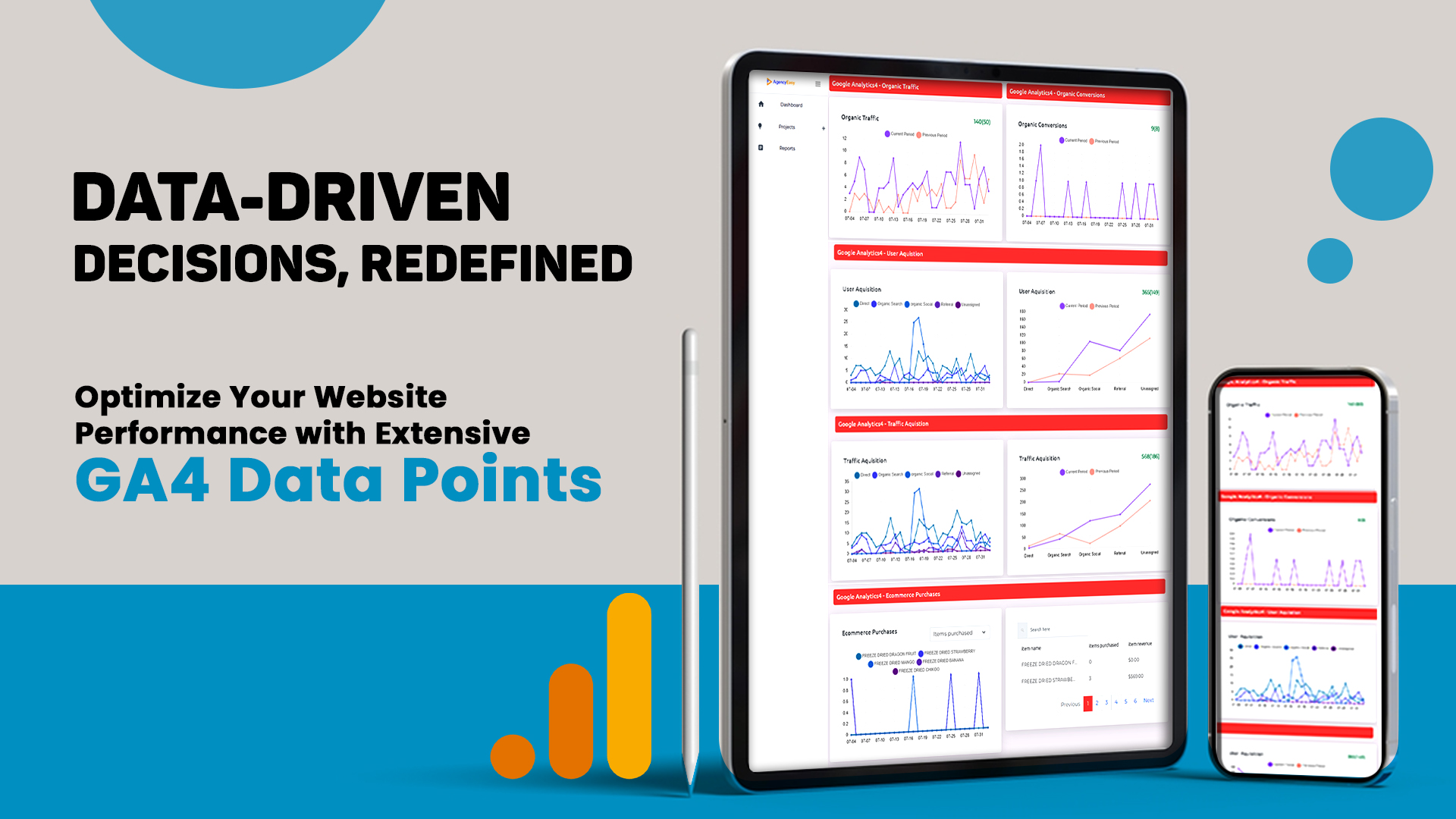 We understand the importance of data in making strategic decisions. That's why we've expanded the data points available from Google Analytics 4 to provide a more comprehensive view of your website's performance. You can now access valuable GA4 metrics, such as:
Organic Traffic
Track the volume and quality of traffic coming to your website through organic search.
Organic Conversions
Measure the effectiveness of your SEO efforts by monitoring the number of conversions from organic traffic.
User Acquisition
Gain insights into the sources and channels that bring new users to your website.
Traffic Acquisition
Understand which channels drive the most traffic to your website and optimize your marketing efforts accordingly.
Ecommerce Purchases
For online businesses, track the number and value of ecommerce transactions.
User Purchase Journey
Visualize the customer journey on your website, from the first touchpoint to conversion, to identify opportunities for optimization..
3. Component-wise Report Customization: Tailor Reports to Impress Your Clients
Every brand is unique, and so are their reporting needs. With AgencyEasy's Component-wise Report Customization, you have the power to tailor your digital marketing reports to perfection. Choose from a wide range of report components, including charts, graphs, tables, and more. Drag and drop elements to craft a custom report that showcases your agency's brand identity and delivers valuable insights to your clients. Impress your clients with polished, professional reports that stand out from the crowd.
We believe that reporting should not only be insightful but also visually appealing. With our new component-wise report customization feature, you have the flexibility to create personalized reports for your clients. Customize every aspect of your reports, including:
Branding
Add your agency's logo, color scheme, and branding elements to showcase a professional and cohesive look.
Data Visualization
Present data in the way that resonates best with your clients. Choose from various chart types and graphs to create engaging visual representations.
Data Points Selection
Tailor the report to focus on the most relevant data points, providing your clients with the insights that matter most to them.
Cover Pages
Impress your clients from the start with stunning cover pages featuring key metrics and branding.
Section Order
Rearrange report sections to create a logical flow of information, making it easy for clients to follow the report's narrative.
Unleash Your Agency's Potential with AgencyEasy's New Features
As the digital marketing landscape evolves, staying ahead of the competition is crucial. AgencyEasy empowers you to not only keep up but thrive in the ever-changing digital world. With LinkedIn Ads Integration, More Data Points from GA4, and Component-wise Report Customization, you have the tools to simplify your processes, optimize your strategies, and deliver exceptional results to your clients through digital marketing reports.
Don't miss out on these game-changing features! Try the latest version of AgencyEasy today and unleash your agency's potential for unrivaled digital marketing success!