Many clients lack marketing know-how or don't have enough time to delve into every metric on their own, which is why agencies must learn what their client's goals are and include those in their SEO reports. White label SEO software allows for seamless integration into client relationships by customizing to include your logo, brand colors, and fonts for maximum integration with client campaigns. This helps ensure consistency when communicating with clients, as it prevents any miscommunication that might cause misunderstandings regarding what's going on with their campaigns.
When searching for the right white label SEO tool, selecting a platform with customizable analytics and reporting tools tailored specifically for SEO professionals or agencies is crucial. This should include features like custom branding capabilities, automated reports and dashboards, search engine optimization data insights, and actionable recommendations for content gaps – these features should enable the highest-quality results with minimum effort and maximum accuracy. If you are looking for such a tool, AgencyEasy can help you generate and deliver these reports effortlessly!
While working for your clients on SEO reports, you should select a white label SEO reporting tool that can provide access to advanced analytics and reporting tools to keep your clients up-to-date on their campaigns. This will enable you to deliver high-quality results that align with their goals while showing their results over time. AgencyEasy, a fully-featured white label tool that can be tailored to meet the unique needs of your clients and agency, provides daily/weekly monitoring and pre-built report types to choose from, along with an API that lets you build custom SEO reports.
Below discussed are some of the essential insights that you must consider while delivering customized SEO reports using a white label SEO tool: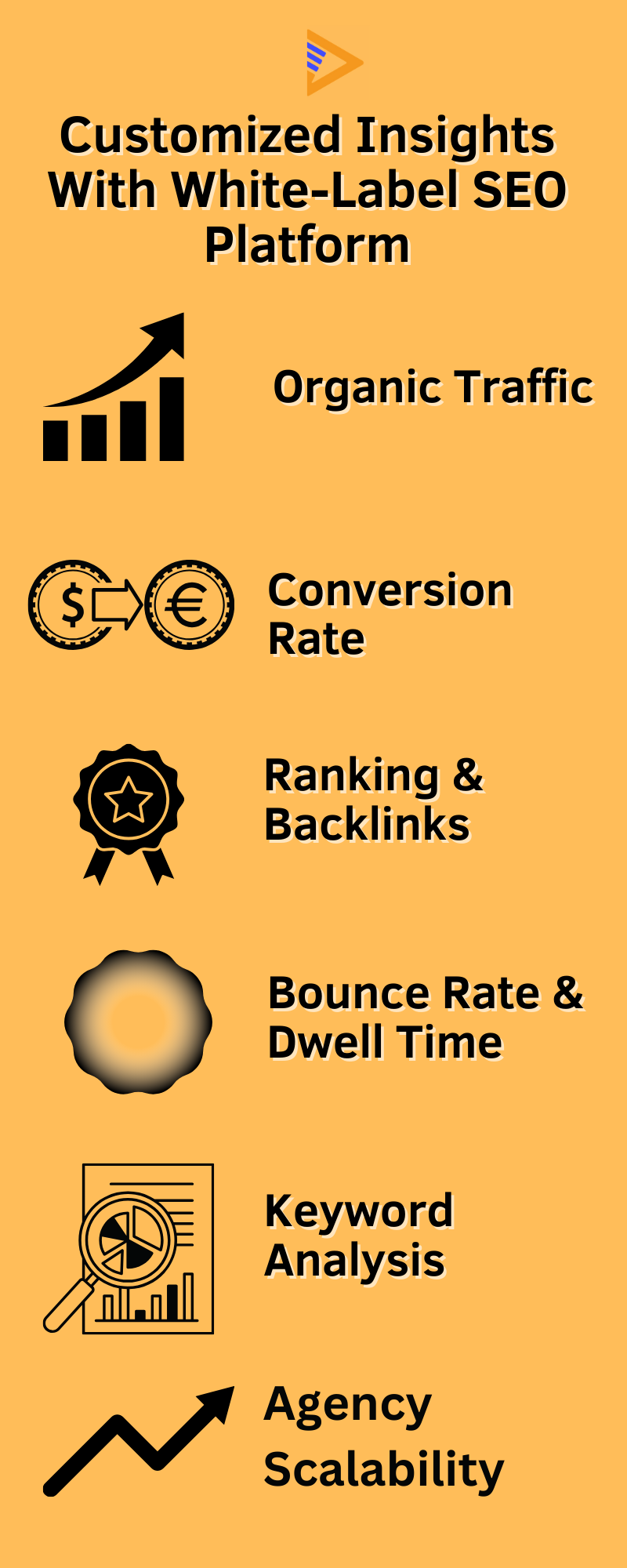 Organic Traffic
Organic traffic is the cornerstone of SEO, measuring how many visitors come to your website organically rather than via paid search or direct. Organic traffic also draws people searching for products or services similar to yours that could benefit from being offered through your business. With AgencyEasy, you can generate in-depth reports on organic traffic and use them strategically to plan digital marketing strategies for your client's businesses.
Understanding how much organic traffic you have managed to secure over the past month or year is also crucial in showing clients how SEO efforts are impacting their businesses.
Clients need a clear picture of what to expect from an SEO campaign to set realistic expectations and understand that SEO is a long-term strategy. Therefore, creating thorough and well-defined white label SEO reports discussing achievements, goals, and KPIs is essential.
Conversion Rate
Agencies should strive to keep clients updated on the progress of their SEO campaign. But simply dumping numbers without providing context may lead to confusion or make them question whether your results are valid. Instead, agencies should tailor their reports specifically to each individual client and tailor them according to their goals and objectives. For instance, the SEO report of a bakery may differ significantly from that of a software company and vice versa, thus ensuring relevant data.
At first, an agency should identify its client's goals. This may include increasing online shop traffic or search visibility. They should also select appropriate metrics and goals to measure progress, which should be presented using the best-suited white label SEO software to show how their strategy is having an effect. Get in touch with one of the tech experts at AgencyEasy to learn more about useful KPIs the AgencyEasy tool can measure and deliver through its highly customized reports. Contact us now!
Also read: Creating, Designing and Automating White- Label SEO Reports for Agencies
Page Speed Insights
An effective website that loads quickly is crucial for any business, with clients especially taking note of page speed. Including your page speed score in an SEO report can help. But first, you must comprehend what this metric represents. Any website's ability to operate successfully depends on its page speed. Therefore, it is important for digital marketing experts and professionals to understand the ideal page speed and how to increase it in order to achieve better results. One of the top SEO tools for businesses can assist with this.
While backlinks or rankings tend to be front-of-mind KPIs for your clients, page speed can be more challenging for them to relate to, making it essential that it's presented in the right manner so that they understand it. With AgencyEasy's seamless integration with Google, you can easily know the exact Page Speed of your website, giving a real-time user-experience rating. Reach out to us to learn how you can deliver customized insights using the AgencyEasy white label SEO tool.
Ranking and Backlinks
When creating SEO reports for clients, remember that it's not about numbers per se; clients will be more impressed by actionable next steps than massive amounts of data. AgencyEasy recommends starting by discussing with your client to understand their objectives through SEO strategy. This will enable you to determine which metrics to focus on in your report and include. With the help of the right white label SEO software, agencies can significantly improve their report generation and delivery process.
Integrating metrics such as Domain Authority (DA), which measures website quality, into your report can show clients how their domain has improved over time, build their trust in you, and show that the backlinks you're building for them are of superior quality. There are hundreds of SEO metrics you could include in your white label SEO reports, but you must prioritize those that matter to your client and their goals.
Bounce Rate and Dwell Time
Dwell time or session duration measures how long visitors spend on your website, providing insight into whether it meets visitors' search intent. This metric should provide valuable data regarding whether users find your web pages engaging and meeting their search needs. However, dwell time should not be confused with bounce rate. Bounce rate refers to visitors who only visit one page on your site before exiting without clicking elsewhere – such as closing out of browsers or typing in another URL.
Dwell time measures how long visitors spend exploring a webpage before clicking back into search results. Though many SEO experts may argue that dwell time is not a ranking signal, it provides valuable insight into how your visitors engage with your site and can be used as part of an audit to identify any engagement problems and create plans to address them. While not the sole metric to track in white label SEO reports, dwell time tracking and sharing it with clients remains essential.
Keyword Analysis
Keyword analysis is one of the vital KPIs of any SEO project. Each metric in your SEO report represents one piece of the whole. However, when creating such an analysis for clients, it is essential that each meeting feels value for time – they do not want to feel as though they are being lectured about SEO 101! To avoid this pitfall, SEO reports should only include information that is pertinent to their client's goals.
Consider how long each section of your SEO report will take to compile. Depending on its scope, creating a monthly SEO report might be significantly faster than an annual one covering each aspect of a site's SEO strategy in depth; similarly, reports focused on keyword performance may take less time than backlink analysis or other metrics-focused reports. Therefore, using white label SEO software that enables quick and effortless report creation is crucial.
Also Read: Introducing New AgencyEasy Features: Enhance Your Digital Marketing Reporting!
Agency Scalability
As your agency expands, it's vital that you find ways to scale SEO reporting. This will ensure your current clients remain happy while expanding your reach through targeted marketing initiatives. A white-label SEO reporting tool may provide your team with easy access to the information they require. A scalable SEO tool will allow you to schedule reports daily, weekly, monthly, or manually depending on client preferences and needs.
A good white label SEO tool should make scheduling reports straightforward, helping to prevent unnecessary reports from being sent out before work has been finished and leading clients down a false sense of security before results become immediately evident. It should also allow you to create customized, automated reports for each of your clients – this way, you can demonstrate your agency's expertise while automating the time-consuming task of data collection.
Conclusion
White label tools offer digital agencies an efficient means to integrate client portals, allowing clients to easily analyze integrated digital marketing data such as Semrush, Google Analytics, Search Console, and Facebook Ads in one central place – an efficient solution to maximize organic search performance for clients.
An effective way to streamline SEO reporting is integrating automation tools into your agency's workflow. Automation systems save time and reduce manual labor, freeing staff members up to focus on strategic aspects of projects instead. As each client differs, one metric may stand out more than any other in your report to help them comprehend their progress.
AgencyEasy is an easy-to-use, highly efficient white label SEO reporting tool providing insight on the most frequently reported topics and easily customizable report templates. Plus, its seamless integration with Adwords, Analytics, or various social media channels makes it easier than ever to gather all the needful reporting metrics – perfect if your focus lies in creating in-depth and customized reports!